Webinar I Fostering decision-useful information on physical climate risks
Webinars - By : Romain HUBERT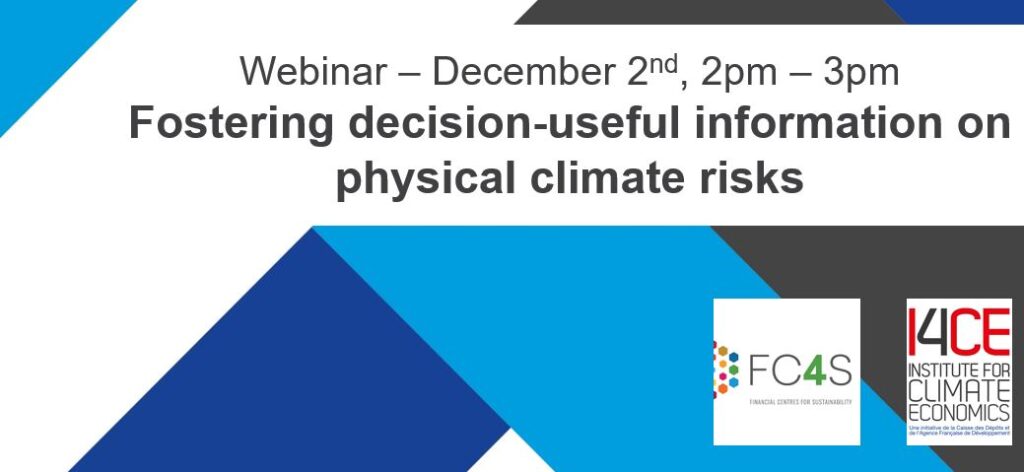 Financial actors are now exposed to the impacts of climate change on the real economy, these impacts are observable and will intensify and the years to come. Financial institutions need to prepare for physical climate risks; however, they face a lack of relevant science-based information to make the decisions.
– How to meet financial institutions' needs to analyze exposure to physical climate risks?
– What are the key challenges?
– How climate scientists and financial practitioners can collaborate to overcome them?
Speakers :
Sophie Dejonckheere, Senior Advisor, Climate Finance – CICERO, Center for International Climate Research
Romain Hubert, Expert, Climate Finance – I4CE, Institute for Climate Economics
Dr. Florian Gallo, Senior Advisor – Carbone 4
David Lunsford, Head of Development & Co-Founder – Carbon Delta
Dr. Nico Kröner, Product Development Manager – South Pole
This event is an opportunity for financial practitioners to learn science-based and pragmatic recommendations about what physical climate risk assessment should look like, what kind of scientific information can be used and why, but also pave the way forward.
A project supported by Climate KIC: