15 June 2017 – Green Bonds workshop – Summary of discussions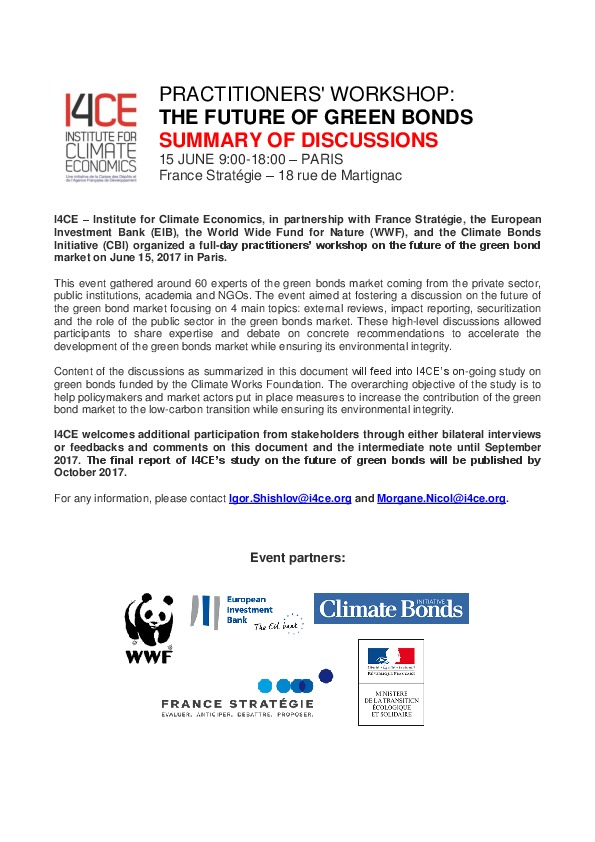 15 June 2017 – Green Bonds workshop – Summary of discussions
pdf
To learn more
02/19/2019

Domestic landscape of climate finance: Why systemic approach to climate finance matters?

Why is it both important and useful to track climate investment and finance flows at the domestic level? In this policy brief, WiseEuropa, New Climate Institute and I4CE present an overview of how systematically tracking these flows can help governments and other stakeholders with quantitative data to assess progress towards national climate objectives as well […]

07/17/2014

Introducing short term flexibility in the EU ETS to assure its long-term credibility : a multi-criteria analysis of policy options

It is now well established that the European Union Emissions Trading Scheme (EU ETS) needs to be reformed. After more than 18 months of discussions, the EU Commission disclosed, in its communication published in January 2014 on "A policy framework for climate and energy in the period from 2020 to 2030", its legislative proposal of […]

11/07/2019

Blog post

Do not measure the impact of the Green Climate Fund- only – by its billions

On 25 October, a conference was held in Paris to "replenish" the resources of the Green Climate Fund. 27 countries have made pledges, for a total amount of nearly $10 billion. Good news? Insufficient? For Alice Pauthier of [i4ce], the impact of the Green Climate Fund should not only be assessed against this figure. The Fund also has a transformational effect, particularly on the many financial institutions that, in order to access its resources, must follow an accreditation process. A process that may well become more and more demanding.
See all publications