Agriculture Climate Club
18 October 2017

CORE MISSIONS
EXPLAIN 
Deepen understanding of climate-related issues

 

at stake in the agricultural sector

 

Analyse public policies and economic tools

 

to fight climate change

 

 

Contribute to open debate 

on the inclusion of climate issues in the agricultural sector. 

 
SHARE 
Build a network

 

of diverse and complementary actors to encourage interaction 

 

Facilitate understanding and dialogue

 

between academic research and practitioners 

Pool knowledge and experience. 
CREATE 
Participate in the development of tomorrow's climate policy

 

Promote collaborations

 

and the implementation of multi-stakeholders projects.

Facilitate the implementation

 

of ecological transition

 
 A KNOWLEDGE-SHARING PLATFORM
An expert network:
Founding members: I4CE, the APCA (Permanent Assembly of Agriculture Chambers) and the INRA (French National Institute for Agronomic Research)
Associated experts: the INRA, the IRD (Research Institute for Development), the CIRAD (International Cooperation Centre in Agronomic Research for Development) and the OECD
High-level contributors
A COMPLEMENTARY AND DIVERSIFIED EXPERTISE
A variety of research topics related to climate issues and agriculture.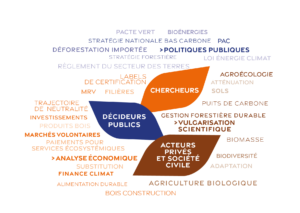 FROM RESEARCH TO ACTION
The Club works as a catalyser of operational projects: focus on the VOCAL project.
VOCAL is developing a methodological framework of national certification designed for agricultural and forestry activities. Its goal is to incentivize and value GHG emissions reduction and sequestration in these sectors.

WHAT WE DO
1/ A NETWORK OF EXCHANGE AND EXPERTISE
2 days of in-person meetings  

 

2 webinars

 

Expert speakers ; presentations of innovative initiatives ; and experience sharing

 
2/ COMPREHENSIVE ANALYSIS
Two synthetic reports 

of 

scientific, economic and policy

 

watch

 

In-depth analysis

 of issues related to climate and agriculture

 
3/ A WIDE DOCUMENTARY BASE 
Access to all publications

 

(reports, analysis, presentations…

)

 
Meeting Programme 02 December 2022 
Download
List of topics previously discussed in the Club and subjects covered in the Reports
Download
Download
HOW TO JOIN THE CLUB?
Annual fee: 5 500 €
Contacts:
• Malika Boumaza, Members follow-up
• Claudine Foucherot, Cyril Brûlez, Club's coordinators