Energy Policy Tracker
1 December 2020
Decisions taken in response to the COVID-19 crisis today will lock in the world's development patterns for decades. With policy decisions made on a daily basis, information about how public money is being spent can be hard to follow. That is why a consortium led by IISD of 21 expert organizations,  including I4CE, has launched the "Energy Policy Tracker" website to track Covid-19 recovery packages from a climate and energy perspective.
Objectives :
G20 governments have pledged to inject trillions of dollars into the global economy to counteract the health, social, and financial shocks caused by the COVID-19 crisis. This large-scale stimulus spending will shape the global economy for decades to come. These decisions could trigger unbearable climate disasters or create a resilient and safe economy powered by clean energy.
The non-profit project Energy Policy Tracker provides information on public money commitments for different energy types, as well as other policies supporting energy production and consumption. The research follows a bottom-up approach, which involves collecting data on individual policies at an individual country level, and then aggregating them.
The Tracker includes monetary, fiscal and other policies. Policies are classified according to different criteria. One of the key criteria is a policy's environmental profile that depends on 1) which energy types it benefits, and 2) whether it has any environmental conditionality attached. Throughout the Tracker, information is split across five categories:
The Energy Policy Tracker aims to identify all relevant policies which have been implemented since the start of the Covid-19 pandemic. Theonline database is updated on a weekly basis, to provide the latest information about government policy responses to the pandemic from a climate and energy perspective. The website features filters by country, energy type, finance mechanisms, and other categories which show, at a glance, what types of measures countries are implementing to tackle the crisis and what is shaping our future energy system.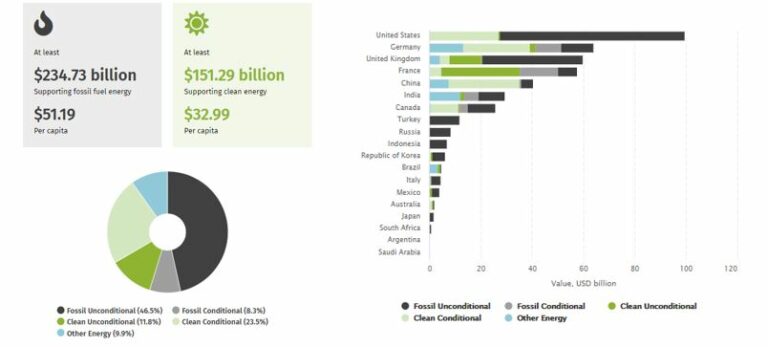 Data as of 25/11/2020
Partners :
The team behind the Tracker is made of:
Period :
Ongoing