Landscape of climate finance in France
2 December 2019
Context
The Landscape of climate finance in France provides a basis for discussion for public debate on the mobilization of climate finance.
The Landscape tracks climate investment expenditure and analyses how these expenditures are financed. It includes contextual and framing elements to situate these investments in the national economy and in relation to the energy transition objectives.
Results are quoted in official public policy documents, for example the annexes of the budget law or productions from the national low-carbon strategy;
The Landscape facilitates public debate, through the organization of a high-level event inviting stakeholders involved in financing the energy transition. The objective of this debate is notably to identify the convergences and divergences of the stakeholders around the observations established in the study.
The project aims to fuel the public debate on the financing of the energy transition within the framework established by the Article 174 of the Energy transition for green growth act (in French).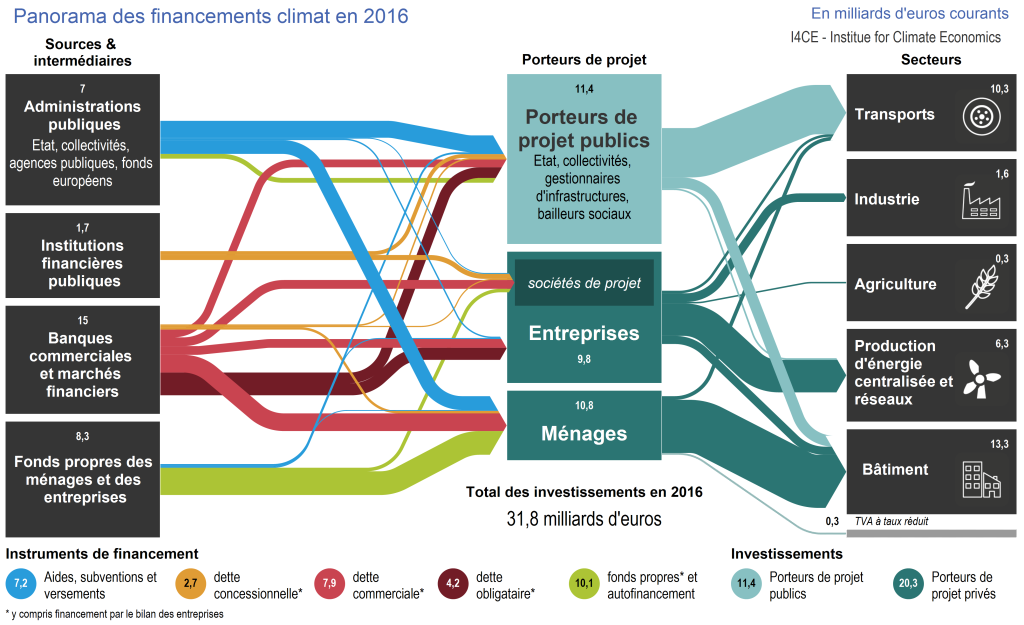 Partners
The national agency for environment and energy management (ADEME) supported the realization of the last three editions of the Landscape of climate finance in 2017, 2016, and 2015.
The Ministry for an ecological and solidary transition (MTES-DGEC) has supported the 2015 and 2016 editions of the Landscape. Furthermore, the project has received the support of Climate-KIC, with the program Ideator.
Deliverables
In 2018,  climate investments in France  exceed €40 billion. The publication focused also on fossil fuels investments and transportation sector, housing and energy production.
In 2017, the Landscape identified 14.5 billion euros in energy efficiency, 5.9 billion euros for the development of renewable energies, and 9.2 billion euros for the construction and upgrade of sustainable transport and network infrastructure.  In 2017, I4CE produce a full report about low-carbon investment between 2011 and 2017.
In 2016, the study reported up to 32 billion euros invested in favor of climate in France in 2014. To give an order of magnitude, this represents about 10% of material investments in France that year.
In 2015, the Landscape covers the years 2011 to 2013, with provisional figures for 2014.
In 2014, the first edition of the Climate finance landscape decrypts issues in five sectors of the economy in France.
In the framework of Article 174 of the Energy transition for green growth act, the results of the Landscape of climate finance are cited in the Climate Policy Document (DPT), annexed to the Draft Finance Law, in 2015, 2016 and 2017.
To find out more about I4CE's research on climate finance in France and internationally, consult the page dedicated to the Landscape of domestic climate finance.